Be careful not to let anyone take a free ride on wireless LAN!
Recently, many spots such as convenience stores or coffee shops for example where people can use wireless LAN (Wi-Fi) to connect to the Internet have appeared.
And there are also places where, when you try to connect to an outside wireless LAN, your device displays various other connections such as personal use wireless LAN including some which you can access without using a password (free Wi-Fi hot spots).
Recently a court was asked to judge whether or not so-called free-riding, or using the Internet without authorization by decrypting the key that encrypts signals from a wireless LAN installed in another person's home, is a crime under the Radio Law.
Other cases have disputed the Unauthorized Computer Access Law, which concerns using illegally obtained corporate information to invade a bank's server by free-riding.
The Tokyo Regional Court has decided that while free-riding is not a breach of the Radio Law, using illegally obtained corporate information to invade a bank server is a crime under the Unauthorized Computer Access Law and sentenced the defendant to 8 years penal servitude.
Even if only free-riding is done, entering a network in a home or laboratory creates the danger that data in a PC or smart phone can be seen, and with this as a stepping stone, the information will be used to commit a crime.
Before this happens, you should review the settings on your wireless LAN router to improve security as much as possible to prevent free-riding and invasion.
Free-riding measures you can take
Strengthening your password
Not protecting your wireless LAN router with a password is just like saying, "Please ride free".
Using complex combinations of letters and numerals reduces the danger of free-riding and invasion.
∗ A password protected wireless LAN router displays the key icon shown below.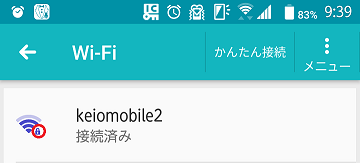 Checking the type of encryption
WPA2-AES, which is an improved version of WEP and automatically changes an encryption key during transmission is recommended.
Set a strong password or type of connection and be careful to prevent free-riding.
Reference documents
This is all you need to do! Three Promises for Wireless LAN Information Security" (Government of Japan Public Relations Office Online) (Japanese article)
Last-Modified: April 18, 2023
The content ends at this position.